It took a global pandemic to shine a light on an important issue
Published February 2021
Tips for maintaining positive mental health
It's easy to focus on the negative aspects of the global health pandemic we've all been dealing with: the social isolation and loneliness, financial hardships, employment and income disruption, mounting debt, worry and anxiety about what's to come and the great unknown.
But strangely enough a lot of good has come from it too:
Many people have transitioned to working from home, and some prefer it. Some companies plan to maintain at least some of their work-from-home arrangements after the pandemic is declared over
There's been more time spent with family than ever before, especially in two-income households
More time to spend with small children during their key development years
There's the money saved on travel (though we long to travel again!)

and the money saved on gas and commuting

And while markets initially tumbled at the start of the pandemic, markets have since rallied, recovering much of the value investor portfolios lost in March and April of 2020, and in some cases exceeding it
Now with vaccines on the ground in Canada and in deployment around the world, what we've all been waiting for is here: the much-anticipated light at the end of the tunnel is within our sights.
But one of the most remarkable silver linings of this crisis has been a heightened awareness and dialogue around mental health issues. Anxiety and depression have become somewhat of a shared experience of many people since the pandemic began. In a serendipitous twist of fate, the pandemic has helped to do something that mental health professionals have been trying to do for years: de-stigmatize mental health issues so that we can recognize them, bring them out in the open, and do something about them.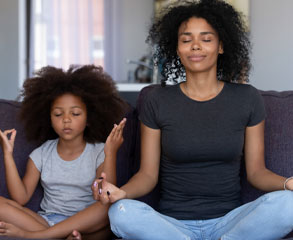 How to recognize anxiety and depression
These are two of the most common mental disorders. Anxiety can cause elevated heart rate, sleep disruptions, racing thoughts, panic and elevated breathing and perspiration. An anxiety or panic attack can also cause distorted thinking and judgement that leads to "catastrophizing". Depression is very different. Physical signs of it include low energy levels, feelings of hopelessness, withdrawal, sadness, crying, agitation and irritability.1
The good news is, there are many things people can do to self-manage and improve their mental health and wellness, and there is outside help at the ready, via a range of mental health experts who specialize in common disorders such as depression and anxiety. Here are some of the things you can do to improve your and your family's mental health right now:
Winter brings less daylight and sunshine which affects many in the form of SAD, aka Seasonal Affective Disorder. When it comes to natural sunlight, get while the getting's good! And when you can't get it, try artificial light.
Find creative ways to get the social stimulation you miss even when you're observing public health recommendations. Consider having a game night over video chat. Or a movie night where you and friends watch the same film separately and text or talk about it later.
Get 30 to 45 minutes of physical activity in 3 to 4 days a week, to help your body stay active. This can help you keep a positive mindset while gyms and fitness facilities are closed.
Learn relaxation techniques such as deep breathing and stretches.
Limit alcohol consumption, as you may think they help to take the edge off but may actually make your symptoms worse.2
Make a physical list of positives, i.e. a pending return to a more normal life, positive things that have happened since the pandemic, and things you're going to do when this is over, whether it's travel or getting together with friends and relatives again.
Consider taking an online test for anxiety or depression; there are many available to help give you an idea of what you may be dealing with.3
Do not hesitate in reaching out to a health care professional for referral to a registered mental health specialist. Don't be shy about it, mental health is as important as any other health issue.
Don't let imminent vaccines distract you from taking steps to improve your mental health. Make it a top health priority from this day on. Your mind and body will thank you for it!
Health & Dental Insurance plans from CAA can help cover the cost of expenses not covered by your government health plan, such as prescription drugs, dental care, vision care, registered mental health therapists and more, and could help you save hundreds of dollars a year.
For more information or to get a quick online quote for CAA Health & Dental Insurance
More articles
Need Assistance?
Speak to a friendly and knowledgeable advisor.
Call 1-888-334-4561
Monday to Friday, from
8 a.m. to 8 p.m. ET
or email am_info@manulife.ca.